Worldflight Australia is a "virtual" round the world flight to raise money for the Australian Royal Flying Doctor Service.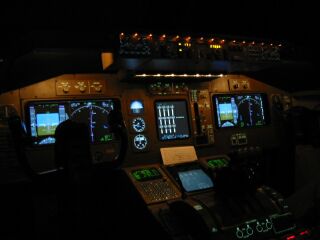 The concept of a virtual, round the world flight for charity was started by a team in the United Kingdom and has spawned an annual event with participants all over the globe. Our very own 'World Flight Australia' was started in 2001 and over the years World Flight Australia teams have raised over $400,000 for the RFDS, helping with the costs of avionics and providing funding for Fly Around Clinics in the essential Air Ambulances used to ferry nurses, doctors and patients around rural Australia.
The popularity of conducting a World Flight for charity is growing; over the years teams in Canada, Ireland, Scotland, England, USA and Austria have joined the simulators in Australia. Each team selects their own needy charity, raising funds through donations and corporate sponsorship.
15 Pilots and crew will man the Boeing 747-400 simulator built by Matt Sheil of Sydney. Each of the volunteer crew will have contributed a donation to the RFDS fund to take part, kicking off the contributions. The flight will be conducted online on the VATSIM network, providing live Air Traffic Control through most of the countries that we visit. A 45-60 minute turn around is allowed at each stop and during that time the incoming crew will be fully briefed as to weather conditions along their route as well as other operational requirements. Interested people will be able to follow the progress via interactive flight tracking, instrument displays and streaming video and audio during the event.